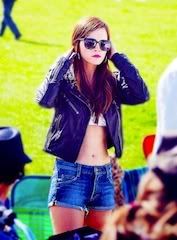 Name: Carole
Age: 21
Height: 5'2
Start Weight: 157 lbs
Current Weight: 152 lbs
Goal Weight: 120 lbs
Chest: 36DD
I will reach 120 pounds before summer 2013!
My thinspiration is Emma Watson. ♥
This blog will consist of everything from updates, to body images that I feel will best motivate me, to awesome foods and recipes that I am just dying to try.
Everyone is welcome to ask me questions about my journey. I won't know much, since I'm just beginning, but please, don't be afraid to ask!